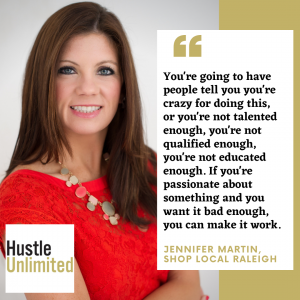 "Any time you shop local and independent and you spend money in our community, more of that money recirculates back here. And that means money for roads, money for schools, you know, money for general infrastructure. And it just helps create more jobs here."
Jennifer Martin is the Executive Director of Shop Local Raleigh, and she comes on the Hustle Unlimited Podcast to talk about why it's so important to shop local, the incredible events (like Brewgaloo) that they're running to support the community, why businesses should join Shop Local Raleigh, and the advice she has to up-and-coming entrepreneurs.
Hustle Unlimited is hosted by Walk West CEO, mentor, investor, and hustler himself, Donald Thompson.
Music for this episode provided by Jensen Reed from his song, "You Can't Stop Me".
Hustle Unlimited is edited and produced by Earfluence. For more on the Earfluence Podcast Network, visit @EarfluenceMedia on any social media platform.
Jason Gillikin, Executive Producer of Hustle Unlimited, CEO of Earfluence:
Welcome to the Hustle Unlimited podcast with serial entrepreneur Donald Thompson. You are listening to episode six of season two and this one is all about why we should be supporting our local communities. I'm Jason Gillikin, producer of Hustle Unlimited and CEO of the Earfluence Podcast Network, and today our guest is Jennifer Martin, executive director of Shop Local Raleigh. Shop Local Raleigh is all about connecting, supporting, and growing independent businesses to strengthen and enrich the Raleigh community. On the show today, you'll hear about that mission, why it's really a no brainer for businesses to be members of Shop Local Raleigh, why it's so important to be involved in your local community (whether that's Raleigh or anywhere), and what advice Jennifer has for entrepreneurs who are hearing doubts from people around them. But before we get started, if you want these episodes in your feed every Monday so you can be inspired for the week ahead, be sure to subscribe to the show on Apple Podcasts or wherever you listen. Give us a rating and review as well and share this episode on any social media platform. That helps us find more great inspirational guests, the hustlers, the trailblazers, the movers and shakers, and the people who make their communities a better place.  So let's get started. Here's Walk West CEO, investor, speaker, mentor, advisor, and all around hustler himself, host of the Hustle Unlimited podcast, Donald Thompson
Donald Thompson, Host of Hustle Unlimited, CEO of Walk West:
Well, Jennifer, thank you so much for joining us on Hustle Unlimited. And one of the things we'd like to do for our listeners is provide them with both kind of thought process things, how to grow your business, different things like that, but also folks that are supporting the business community. And I'd like to give you some space, to really talk about what you guys do, introduce yourself and then we'll jam out on some questions.
Jennifer Martin, Executive Director, Shop Local Raleigh:
Thanks. So I'm Jennifer Martin. I've been in North Carolina for nine years now and I have worked with Shop Local Raleigh for nine years. It was very fortunate when we moved here. They had an opening for a nonprofit executive director. I had experience in the field and one thing led to another and I'm still here.
DT:
Oh, that's awesome. Okay, so now what is your charter? So when you think about a nonprofit and different things, you think about getting donations for different things, sometimes you think about, how do you feed the homeless is a great initiative or somebody that's focused on cancer research and different things. Tell me as a nonprofit, Shop Local Raleigh, what's its charter? How do you deliver against that mission?
Jennifer:
So we are all about connecting and growing local independent businesses, connecting business and community together, helping to stimulate our local economy, helping create growth in our community, helping to, you know, just the uniqueness, keeping Raleigh local, keeping it independent. And those are our big push points of how do we help support local business? How do we help be their partner, if you will, be their resource, be their advocate, be their sounding board, be whatever it might be that we can be to them at a very affordable rate. It is a membership-based group. So businesses join for a small fee of either $100 or $250 a year and they get access to us, our staff, they are listed on our website. There are social media, not to go too into depth, but all, all of that is what they get for that free. And we will sit down with them and help them as much as we can with their business.
DT:
So if I understand that correctly. As a membership organization, small fee that most small business can afford, but then they get an expansion of their team. Right. So you act as both advocates help them with marketing, game planning, things of that nature. That's phenomenal. Give me some, give me an example or two of a couple of success stories of how Shop Local Raleigh has helped them.
Jennifer:
Sure. So a couple successes, I think it's hard to probably pick just a few, but there's, there's been one, I would say for a new company just starting, you know, they've got great skill, they've got great talent. They may have branched off and started their own and they had a skill that they were looking to do something where they knew they needed a client though. And we knew one of our members that was looking for that service connected them, and that one contact, that one new customer for them landed them a new client which landed a referral for another one and it just goes on and on spiraling like that because we found so much that with local businesses especially, it's they want to support each other. So you support me, I support you and hey, don't worry. I'll tell a friend about you too.
DT:
Oh man, that's powerful. As a marketer and social media and advertising and different things, one thing we can never forget is the power of a personal referral in somebody that trusts a friend that refers a piece of business. And so for you guys to facilitate that kind of conversation is really, really amazing. I think it's great. Now what size businesses and types of businesses are involved in Shop Local Raleigh?
Jennifer:
So anything that's local independent, you could have a staff of one or you could have a staff of 500 as long as you're local owned, independently owned, and you've got a desire to be part of what we do, you can join and be a part of the organization. So we'll see businesses, you know, they're sole proprietors, we've had meetings with just sole proprietors trying to get them to connect. Um, solopreneurs we casually named it. So then that way you're solo but you're not alone so they can meet up and have some good conversations. You can be brick and mortar, non brick and mortar, you can be food and beverage, you can be retail, you can be service oriented. So really any business that exists in our community that has the ability to be locally owned and independent.
DT:
And what are the ways that you connect members to each other? Do you have, you mentioned the website, do you have events? Do you have forums that they can join? Give me some of the ways that we could stay connected.
Jennifer:
So every fourth Friday of the month we do have a fourth Friday networking event. That's a great way for them to connect. And I should be honest, it's really not networking. We call it connecting. Because networking I think has one of those connotations. When you go there, you feel like you've got to wear your best, you got to dress up a little bit more. You've got to bring a stack of business cards. You've got to put your game face on and walk into a room with people you don't know and just start awkward conversation. And what we found is when we said connecting people could come as they are with small business. You might have someone that, you know, maybe they're a pet groomer, maybe they work in a coffee shop, maybe we've got Santa that from the Raleigh Christmas parade that comes. Come as who you are, come as what you do for your profession.  And I think when you do that now you take out the barriers that exist at some of those networking events. And we want it to be more casual. We want it to be inclusive. We want it to or including everyone and we want it to just have an opportunity where they can truly be themselves and we facilitate. There's open conversation, you know, there, there might be some of that awkwardness if someone's new or they don't know some people, but then we go around the room and give everyone the opportunity to say their name, what their business is, and then usually a fun question of the month. What are they looking for in business that they need help on that someone in the group might be able to refer them for. Sometimes we'll ask if it's October, you know, what is your one Halloween costume you've always wanted to be, but I've never been. Just something really unique to try and create conversation that is different from the traditional networking.
DT:
No, I liked the way that you phrased it and the way you implement that in real time, that connection and come as you are. I mean, I think that most times there is a nervousness when you're a small business on the grow. Am I important? Do I matter? And giving people the space to, yes, you do matter and you're welcome. You said something really, really powerful. And again, the digital world is amazing, but that one to one contact really is still important in everyday business as we grow. Why should our listeners support Shop Local Raleigh?
Jennifer:
Many reasons. The biggest one is it's your community. You know, we always talk about shopping where you live and you know, investing money in your community. So whether you are eating local, if you are buying local goods, if you are supporting a local, maybe it's your accountant, you know it's tax season instead of going to a chain you go to that local person. It's keeping those businesses that have helped build our community. We have done research studies that show any time you shop local and independent and you spend money in our community, more of that money recirculates back here. And that means money for roads, money for schools, money for general infrastructure. And it just helps create more jobs here because they're able to employ more because we're re circulating more here.
DT:
No, that's a phenomenal answer. And really specific. So basically it's the same thing as if you build a house. There's a carpenter, right? There's a realtor that gets paid, right? There's taxes that are paid on that house and everybody benefits from that investment. And we can think about that in terms of businesses as well.
Jennifer:
Yeah. And we didn't even mention to the fact that, you know, for one it feels good, you're going to get better service, that people were probably gonna know your name. It is still that human interaction and it's something that's, you can't find it in every town. You know, you're not going to be able to find some of these restaurants in every single town in America. We love that you can find them here in Raleigh. We get emails all the time or calls from people or you know, different visitors coming in. Like, where should I go that's really unique to this area? Or where can I go that I can't find at home? And we're not saying that the big boxes or the chains are bad, you know, every community has them. They're part of it. But it just…and they employ local people as well. It's just their profits are usually sent elsewhere so they're not staying here within our community. And so for those locals, they're just really, it creates that entrepreneurship and I think I'm, I'm old school, I always say go back to that. It's that American dream that, you know, I know when I was growing up that was always talked about is everybody wants to live the American dream. And I think sometimes we forget about that with social media and with, you know, how disconnected we can be so busy and we're always on the go and always running that you can have a dream too.
DT:
No, that's super good. And then everybody that is chasing those dreams need support and it's phenomenal that what you guys are doing is providing that infrastructure.
Jennifer:
Yeah. And we don't, we don't want people to be alone. And that's the thing is when you're out, I mean we are small. We are a small nonprofit and what we do, we've got over 850 businesses we work with. There's a staff of two and an intern right now. I always tell people we are some of the most passionate people about what we do because we don't clock in and clock out, you know, after a couple hours every day we are, we're seven days a week checking emails, posting on social media, coming up with all of our own creative and content and another way we do connect, not just with like with fourth Friday's events, we're heavily engaged in events because that's how we truly feel we can connect business and community together.
DT:
So you have the fourth Friday. Tell me about some of the other events that we can promote in concert with you that would be helpful.
Jennifer:
So tech Tuesdays, the third Tuesday of every month, tech Tuesday is a one to one and a half hour seminar type based event, if you will. It is, I'm very focused on training and education. How do we help educate? Is it using, you know, Instagram for business. Is it using Pinterest for your business? Is it video marketing? What is it that it is that's coming up? We find the speakers and do a seminar on this of how to teach small businesses, how they can get their word out, get their marketing out, use tools that are available to them to make their business successful. And so that's the third Tuesday of every month, fourth Friday. Then we'll also have welcome Wednesdays. So that's an evening event. So on the second Wednesday of every month, it's another just open casual networking space and we do a lot of these at different member locations. So then that way it travels around, it gets people out in the community. Usually the evening ones have a different component whether they have, you know, a beverage option or something like that as well. And then the big events that we do that people may or may not be aware of is the Raleigh Christmas parade. That event was started…our previous name was called Greater Raleigh Merchants Association, way old history of Raleigh it was called the Merchants Bureau. And that started with old history of Raleigh where Fayetteville Street was the original business district in Raleigh. That was the small merchants and they all banded together to create their own group. And as time has evolved, we've still kept the organization and we just eventually made Shop Local Raleigh our DBA.
DT:
That's it's awesome. The history creates context for kind of where you've been and where you want to go in the future, and how can people be helpful whether or not they have a small business but then believe in your cause and what you're doing. Like how do you guys grow and fund to be able to deliver more services?
Jennifer:
It's a lot of events. So coming to the events and participating like the Christmas parade, you know, is a free event for the public to attend. We want to keep that a free event that it's not going to be a charged event. We do have sponsors for that event. ABC11 is our title sponsor, so it's great having that partnership with them and then believing in us for our cause to helping to cover the cost of that parade to keep that free. Then through our other big signature events called Brewgaloo, it's a craft beer festival. It was just named number one best beer festival in America by USA today for 2019.  So we, we love that event it, we grew at grassroots when people told us we couldn't and we shouldn't and we did it and it's been a great journey.  And the thing that we love about that, everything that we do and every event that we do traditionally starts based off of a need of something to help a business in our community. So the need back then when we started at seven years ago, eight years ago, I'm sorry, eight years, Oh my goodness. It's growing. Brewers were asked to donate all their products when they went to events. So when we started the event, they came to us and said, we can't donate anymore. Like it's just costing us way too much and we're too dependent on people coming back to the brewery to buy or taste. Because back then it wasn't readily available on shelves like it is today. So our big thing was, well let's create a festival where we pay 100% for all the beer use for the event. So we purchased today every single keg that we used at this event and incorporated back then also food trucks were brand new in this area. They needed a place to set up, sell vendors, whether you were brick and mortar or non brick and mortar for t-shirt vendors, for boutiques. They needed a way to attract customers to either their online site or to get people to know about their brick and mortar business existing. So we incorporated beer vendors and food trucks in a way to try and then put live music on stage and we've kept it to where you've got to be a North Carolina band to be on that stage.
DT:
Oh, congratulations. I mean I think the opportunity to have fun and raise money for Shop Local Raleigh is pretty cool. Let's pivot to this. What are some of the biggest challenges you have as an organization?
Jennifer:
Sure. You know, I think one is we are small. It is a small staff. Our events are always… Day to day operationally, a lot of our members are actually some of our greatest consultants. Like we can connect them with other businesses needing help or needing answers or you know, questions to business if some of those have been in it longer. They're great mentors. So we've got a great Rolodex for people that we can refer to and they need to help with specific questions. It's more than what we are equipped to do events. Our biggest one is just how the community, we love having people get involved, you know, whether it's being a part of, you know, set up or break down or whether it's part of just help them serve during the event. If it's becoming almost like a shop local ambassador, knowing who we are and what we do and things about our community, sending us content that always is helpful to like, you know, social media.  It's so much fun and it's a great beast. But we've got I think 36,000 followers on Instagram right now, but so now it's a challenge for us to to daily keep up with the posting, keep up the content and it's harder and harder to search for the content. What we primarily do is either self take all of our own content, whether visiting with members to get our content to post or we have members send it to us so that we can share the news about their business. Talking about a testimonial story, we have several that have shown that with one post of what we do, especially if it's an item in their store that they can purchase, that one item will sell at least $100 worth of inventory from one post on our Instagram, which more than pays for their membership.
DT:
That's phenomenal. I think that one of the things here at Walk West as the CEO of a digital marketing agency, you should take us up and just do a lunch and learn, and we'll provide some experts both for people that you invite for Shop Local Raleigh but also for you and your staff to just stay on the cutting edge to hit those numbers to grow even faster. And so please like, and I mean this in a very sincere way and reach back out after we do this and we'd love to help because we believe in what you're doing. And I think that if we all lift each other up, just like you said, every dollar that these companies grow helps our economy and it's just goodness. I just wanted to throw that out there.
Jennifer:
Yeah, we would love to because we're always looking for speakers and topics and we've done quarterly big seminars where we'll have, you know, just open topics or forums, whether it's, you know, meet the local candidates. And a lot of times we don't, we are not political, we do not look at red and blue or what animals. But we do look at the small business issues and so on. Like for instance, when Raleigh city council elections come up, we'll bring them in together to ask them kind of how do they feel about certain issues that affect our small business community. And that is where, where we stand on all that. Otherwise we do not get politically motivated.
DT:
That's a smart policy these days. I meanand also, quite frankly, it allows you to just stay focused on what your mission is and that's helpful.
Jennifer:
It's not what we do. It's not who we are. There's other groups in town that do that. It's not our mission. Our mission is 100% to keep Raleigh local, keep Raleigh independent and preserve its character.
DT:
So let's move to, let's look at the macro environment for a little bit. And here's like a fun question I like to ask all the guests on hustle on the minute. If you had a magic wand, what would you do with that magic wand in today's environment?
Jennifer:
Besides making me be able to stay awake 24 hours a day? Cause I would, I just, all of these ideas I have in my head, um, magic wand, we would have a budget where we had a staff of at least 10 people I think. And we were able to sub divide out the different parts of the community where we were to assign a person to a certain section if you will geographically break it out. So then that way we have a representative, if you will, in every single sector to make sure that we're touching people over the community. Cause I think the biggest thing is so many businesses still don't know we exist. As you know. And you guys deal with this a lot. It's finding out how to get your message out there, how to reach the masses. We're doing a big event in October over at Dix park and it's actually in partnership with Dix park Conservancy and the city of Raleigh parks department.  The theme is falling for local, so it's a fall festival, but it's falling in love with local and it's going to be, you know, you'll have your beer, your food trucks, your vendors, but we're also looking to incorporate free fitness demos, some medical screenings, things like that that those professionals, you know, some things for your pet. Things that just really incorporate all the things that touch our community of local that we may not sometimes think a local, it's really eat to eat local because everybody's hungry. It's a social thing. It gets you out of your house. It's fun. That's the one thing you can kind of budget for intend to do, but it's harder and it's a more thought process when you have to go buy some clothing local or where you have to go buy school supplies at a local independent, we, you have to seek some of those things out. It becomes more of a challenge.
DT:
No, that makes sense. And very educational actually for what we're doing and I appreciate that insight. Let's dial back for a little bit. Where are you from? What's your story? How'd you get to Raleigh? Like tell me a little bit about you.
Jennifer:
Yeah. So I went to USF, University of South Florida down in Tampa, Florida, Go Bulls. And I'm from Florida. I grew up my whole life from there. My dad was a charter fishermen and sporting goods sales rep. My mom was a private school principal and I think from seeing her and her work ethic of private school principals or back then even when I was growing up, she was a teacher when you don't make a lot of money and you work very, very long hours. And this was before the digital age. And um, so I just saw what she put into her work. And when I was in high school I actually helped recruit a lot of their silent auction items for her elementary schools. Kind of working on that. I just enjoyed it. And then I went off to USF and after I graduated, I actually worked 10 years as a manager for Bath and Body Works all throughout high school.  Loved what I did. But because I started in high school, the pay scale, when it became time for management, you can only get a certain percentage increase as an employee, which meant I was going to do the lowest paid manager in the entire County. So, I decided, you know what, maybe it was time for me to use my degree and do something else. So within a year after graduating college, I did nine interviews with the Boy Scouts of America and they said, if you'll move to St Louis, Missouri, we'll hire you. So I packed up a UHaul. Um, my dad drove in front of me, followed behind him. We drove all the way to St Louis. I slept on a coworker's futon who I didn't know for two weeks until I found an apartment and got all moved in and spent five years there.
So the Boy Scouts has some of the most incredible training for new professional. They have their own facilities out in Texas and they send you to two weeks there and when they send you there, there is really nothing around you except this one tiny little Chili's. And so that way you really have to be in depth in your training and your studies and just really learning different scenarios, different situations, leadership, you know, all the things that you can think of to try and help you grow as a professional. And then they send you back into your area and now you're given this area to sink or swim. And so, I had great success there. I loved what I was doing, but, it was time for me to head back to Florida and I became the executive director for Susan G Komen for the Cure, the breast cancer organization and central Florida.
So I served there over two years and my now husband had received an offer to come to this place called Raleigh and we weren't really sure what it was, but it sounded like a great opportunity and they were building this new project called 540. And so we ended up packing up and deciding to take the leap to come up here. And my job didn't transfer. So that's what led me…and I swore I would never do nonprofit again when I left Orlando. I was tired. I, you work a lot of hours and I'm a very one of those people that I'm really passionate about what I do. But I'm also, you get into it, you kind of get hooked. And so you want more. You crave that success. You crave what you're doing, you crave helping people more and more. And so for me, it was hard to turn that job off.
So when I came up here, I said, no, I'm not doing nonprofit anymore, not doing nonprofit. And then with every single interview I'd do, they'd say, you know, your resume looks great, but you have no for-profit experience. And I would tell all of them with my, um, boldness that I would say, you know, the reality is, is I have a lot of business experience because I've always had to sell something that's intangible. So I maybe have more skill because I've sold something that I, I couldn't show anyone, they couldn't hold it. They couldn't look at it. They couldn't feel it. I was selling the Boy Scouts. I was selling, giving to cancer charities to help save lives. You know, I was selling things to people that it was pulling at the heartstrings, but also I had to convince them of the why they should let 50 boys in their church every week to go to a meeting.
And so for me, that was a really good experience. And then finally, I think after being turned down a couple times and realizing they didn't like my answer of I think I have more experience, um, that didn't win me any awards. I saw this opportunity for this job with a merchants association that's talked about planning a parade. And I thought, well, I've planned 5K's and Camporees and you know, the Race for the Cure, it can't be that hard. And what I didn't realize was it was the Raleigh Christmas parade, which is the biggest from Atlanta to DC. So, and I just, I think I fell in love with the parade. Um, it was same thing. I had great leadership, I had great mentors teaching me. John Odom has been someone in the community that has been on city council many years.
He's a small business owner. He had done the parade I think 30-40 some years it seems like, and I was fortunate enough to have him train me how to do it and part of the challenge was because the parade had been around so long, it was so well loved, but how do we keep it exciting, energetic, and how do we add new things to it and just kind of make it look, look really good, if you will. That was my first, my first big event was actually Raleigh wide open. That's when Raleigh was celebrating. Every year they did an event to celebrate the reopening of Fayetteville street, so to coincide with every event. They did something. That year was the 4th of July and it was doing a small mini parade down Hillsborough street down to Fayetteville and then ended with a huge block party on the street. So it was such a great, I mean I can't even imagine like I just feel so fortunate and blessed for this outsider to come into this community, to land into this job. That's been honestly the best thing for myself and my husband. I mean we have gotten so many cool experiences and you get to try some different restaurants and I feel like we know so much about this community that I would never have known or probably engaged with had I not been in this position.
DT:
And I appreciate that answer. And, and it gives just our listeners an opportunity to get to know you better and everyone's journey has some just powerful learning experiences. Working for the Boy Scouts and the training program and kind of be a dropped in the spot sink or swim, so to speak, is really awesome. What would you say are some of the key lessons learned in your nine plus years with Shop Local Raleigh that translates to any business? Just some of the lesson learned as a helping entrepreneurs and growing as a leader.
Jennifer:
You know, I think a couple of things. One for me that's always been really big is that you're gonna always have people tell you you're crazy for wanting to do this, or you're not talented enough, you're not qualified enough, you're not educated enough. Are you sure you really want to do this? Because you don't get the big corporate benefits, quote unquote, you don't have that backing. And I think that for me, one of the things that's always helped me in doing this is working for this small nonprofit, independent nonprofit. I also don't have those big corporate benefits. And it's if you're passionate about something and you want it bad enough, you can make it work. And I think it's, it's always keeping that goal right in front of you, knowing what it is that you really want. The end, not listening to the outsiders. And that for me has been the one thing that's always kept me going.
And even with the beer festival, I remember when we met with people before starting it and someone had told me, she said, you know, there's already enough beer festivals. You don't need to start another one. No, there, there's plenty in this community. You really, you don't know enough about beer. You haven't been involved in the beer community, you've never done one. Your group is really small. Why don't you just leave it to the people that do this professionally? And that has always stood out to me to now where I look, I don't want to say I get emotional, but every Brewgaloo and my favorite thing is to look, if you look from city Plaza all the way down to the state Capitol and the event actually starts at two o'clock and at two o'clock you cannot walk from a to B because it is that many people out there.
I mean we've got 50,000 people out there celebrating craft beer, celebrating local, celebrating community. We are now one of the largest beer festivals in the country. It is the largest woman run festival. It is the largest nonprofit run festival. I mean it is absolutely unbelievable. The accolades that this festival has. And I look back and think if we had listened to that person that told us you don't belong here and this isn't yours, we would never have built this. So I just, I think you know, there's, I can go on and on with those kinds of stories of what it is for small business entrepreneurs. It's going to be hard. It's not all pretty. They are going to be nights where you're going to think what am I doing? And you know, I think don't be afraid though to talk to other people and ask other people because you're not alone.
Don't be afraid to say, Hey, I'm experiencing this or I'm going through this. Can you give me ideas or insight because I can guarantee you we've all been there at least once if not twice, you know, I'm walking that road. If I can use a Walk West analogy, you know sometimes you have to Walk West to go find your dream, find your journey and find where your, your niches that you fit. But I think it's also just being honorable, being respectable, standing to your morals and your character, your non-negotiables. For me that's always been really big is knowing my non-negotiables on things and where I won't waiver so that I believe in being fair to people. I believe in being honest and upfront. Sometimes I've been called, you know, maybe too harsh or too abrasive for doing that, but I just, I don't feel comfortable with any of the day if I haven't been transparent about it.
DT:
That's awesome. What a wonderful way to like kind of wind down our discussion, but the passion that you display and the results that it has generated. So a lot of people that are passionate about things but the passion that you display and then taking something to where there are plenty of naysayers and then something that is the top in his class is what Hustle Unlimited is all about. That is really, really cool. You should be very proud of it and I sincerely…if we can be of a blessing and help you guys, we really would like for you to reach out and ask. Thanks so much for joining us.
Jason:
That was Jennifer Martin from Shop Local, Raleigh. For more, head over to ShopLocalRaleigh.org or join in on social media where they're @ShopLocalRaleigh. And you'll see on their Instagram page with over 40,000 followers, that's one of the ways that they're really supporting their members. This episode was edited and produced by me, Jason Gillikin for Earfluence. For more on the Earfluence Podcast Network, head on over to Earfluence.com or check us out on social media, we're @EarfluenceMedia. Intro and outro music for this episode is you can't stop me from Jensen Reed. You can find more of his music at JensenReed.com. Thanks for listening and we'll see you next week on Hustle Unlimited.
Amplify Your Expertise
About the Author
At Earfluence, we are proud to produce this podcast. We believe in sharing amazing stories, providing knowledge to the world, and celebrating diverse voices. Through podcasting, our clients are amplifying their expertise, expanding their networks, building a content engine, and growing their influence. If you're interested in podcasting, we'd love to hear from you! Schedule your
free 15 minute podcast consult
today.