Season 2 – Episode 011 – Former Fortnite Senior Producer Heather Chandler on Being a Trailblazer in Gaming and Her New Hustle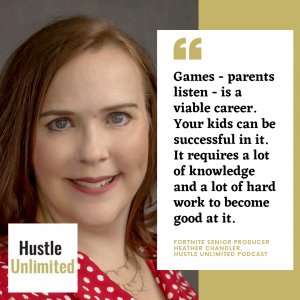 Heather Chandler literally wrote the book on how to make a video game, and was the senior producer on the most popular game in the world, Fortnite.  She chats with Donald Thompson on this episode of Hustle Unlimited about her career as a trailblazing woman in gaming, why she wrote the book on how to make a game, her time at Epic games making Fortnite, mentorship, and now transitioning into entrepreneurship with her new company, Whole Brain Escape, in Apex NC!
Hustle Unlimited is hosted by Walk West CEO, mentor, investor, and hustler himself, Donald Thompson.
Music for this episode provide by Jensen Reed from his song, "You Can't Stop Me".
Hustle Unlimited is edited and produced by Earfluence. For more on the Earfluence Podcast Network, visit @EarfluenceMedia on any social media platform.