Season 2 – Episode 13 – The Diversity You Can't See & Becoming a Leader, with American Underground GM Molly Demarest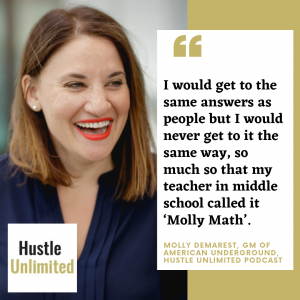 Molly Demarest is the General Manager of American Underground Startup Hub in Durham NC. Throughout her career, she has grown into leadership of the American Underground team and mentorship of aspiring entrepreneurs.  But when she was growing up, she could never have guessed she'd be this successful.  With a learning disability and ADHD, Molly knew she had a different way of learning.  But unfortunately, many of her teachers didn't embrace the difference, so she also thought she was dumb.
On today's episode of Hustle Unlimited, Molly talks about neuro-diversity and other types of diversity you can't see, how she became a leader, why personal health is so important, and the mission of American Underground.
Hustle Unlimited is hosted by Walk West CEO, mentor, investor, and hustler himself, Donald Thompson.
Music for this episode provide by Jensen Reed from his song, "You Can't Stop Me".
Hustle Unlimited is edited and produced by Earfluence. For more on the Earfluence Podcast Network, visit @EarfluenceMedia on any social media platform.
Jason Gillikin, Executive Producer
Welcome to the Hustle Unlimited podcast. We have a new episode for you today that I'm so excited to share. I'm Jason Gillikin, producer of Hustle Unlimited and CEO of the Earfluence Podcast Network. This season so far we've had on Heather Chandler, former senior producer of Fortnite at Epic Games, and Javier Leiva from Pretend, which is a side hustle podcast that has over a million downloads. If you haven't listened to those, be sure to check those out. Today, get ready to hear an inspirational story and some amazing advice for entrepreneurs. Molly Demarest who is the general manager of American Underground, which is a startup hub and co-working space in downtown Durham. But it's so much more than that. And a lot of that is because of Molly. In her role at American Underground. Molly is a connector, an advisor, a coach, a boss, a leader. But growing up, she might not have expected to be in a position where people look up to her. In the interview today, you'll hear why that is why she's so passionate about diversity and inclusion in the workplace, and especially at American Underground. But before we get started if you want these episodes in your feed every Monday so you can be inspired for the week ahead, be sure to subscribe to the show on Apple podcast, or wherever you listen. Give us a rating and review as well and share this episode on any social media platform. That helps us find more great inspirational guests. The hustlers the trailblazers, the movers and shakers, and the people who make their communities a better place. So let's get started. Here's Walk West, CEO, investor, speaker, mentor, advisor, and all around hustler himself, host of the Hustle Unlimited podcast, Donald Thompson.
Donald Thompson, Host 2:06
Hey guys, this is Donald Thompson another episode of Hustle Unlimited. And I'm here with Molly Demarest. And we are super excited to chat with you today.
Molly Demarest:
I'm excited to be here.
DT:
And get a chance to get to know you better personally, and then talk about things you're doing at American Underground. So as we introduce you to the hustle unlimited team, just take a minute, and just tell us a little bit about you personally, where you're from, brothers and sisters, how you got to North Carolina, just a little bit of background and as we talk as friends.
Molly 2:30
So I moved to Durham when I was seven years old. And I'm the oldest of four kids. We're all very close. I have two brothers and a sister. I went through Durham public schools all the way through and went to Appalachian State.
DT 2:47
Nice, My daughter went to App State, she's having a great time.
Molly 2:55
Oh, she must be fun. You're fun or you leave App. So I grew up with my family. We moved to Durham for my dad to do his postdoc at Duke. And so it was this interesting experience of being around a lot of very like intellectual people, but from a socio economic standpoint, because there were four of us and he was in grad school, we were on the grad school salary. So it was this like, really weird experience moving here where I don't know, like my life look different than my peers did. I think that formed a lot of things. I don't even know why I was just thinking about that came up as you brought that up.
DT 3:30
Because our experiences our family life, and all those different things shape us now. Now at App State what did you study? What were you interested in? And how did how does that weave into what you're doing that?
Molly 3:40
I took an accounting class I did really well in it. I was like, this is weird, I guess my brain kind of works like this. I had a mentor say if you get accounting go for it, you could still do marketing down the line. Accounting will open doors for you. And if your brain works that way, just keep moving. And so I did.
DT 3:58
That's fantastic. Now, one of the things with education, and then as we weave into our professional career, tell me about your first couple of jobs, and then how you ended up as General Manager of American Underground.
Molly 4:10
Oh, man. Okay, so my first job was working for Mad Hatter's in Durham as a coffee barista. And it was really important, I think, for me and for my parents, you know, from a work ethic standpoint, like you need to work and interact with people and I remember realizations around the differences with people just from that job specifically. And like you, you just interact with so many different people on a daily basis. So I did that and then, what did I do after that? Oh, then I started working for criminal defense attorney.
DT
Vastly different.
Molly
Totally different, but this is the true story, this happened. So I really love Law and Order and loved Matlock. I loved all of those things like they came on as a fourth grader and I would watch Matlock.. And I said to this attorney, I said, I really love Law and Order, I think I want to be an attorney. And he was like, I don't know about this, but let me get you a project and see what you can do. And so in high school, I started working there, That turned into a whole slew of jobs through college, where I worked on a couple death penalty cases, the racial justice act in North Carolina, and that really started forming so much of how I saw the world, which was different than accounting. Meanwhile, I worked on a death penalty case in Stanley County, then a death penalty case in Durham, researched all the murders in Durham over five year span and compare the race of the defendant and the victim, and the rate at which the death penalty was applied.
DT
And starting with that kind of a socio economic threat.
Molly 5:44
Yes and building this database, I'm touching All of the court files. I mean, I spent an entire summer pulling, every single court file, and all the medical examiner documents and all the newspaper documents. And I mean, the data showed it like the race of the defendant impacts the rate at which the penalty is put on the table. And there was no denying it. And at the same time, my first cousin was murdered. And so I have this really weird experience of like, kind of what side am I on here? What does this look like? I've seen how this impacts family. And one of the attorneys that I worked for, I went with him to the Durham County Jail one day and he said my role as an attorney is to make sure that my client knows all of the details they need to make the best decision that they can make. My job is not to sway them, but to empower them, and ensure that they live a better life beyond this point at whatever capacity. So we go in there, I remember sitting there like having this conversation watching how he led this. And then we leave and he looked at me, he said one thing you need to know is that the only thing that's different between you and him, the two things are the color of your skin, and the neighborhood you were born into. And If there's one thing that you need to remember in your future is that you are at this point for these reasons, and you're working hard. There's not a discredit to that.
DT
Sure.
Molly:
So I'm doing all of this, while I'm studying accounting and I'm like, what am I doing? I couldn't justify the two.
DT 7:16
The point that I'm taking, right, is our experiences do shape us.
Molly
Yeah.
DT
And your ability to chase different experiences, right, has built a foundation for what you're doing today.
Molly 7:28
All because I loved Law and Order.
DT 7:34
And cause you love TV
(laughing)
Molly 7:39
I love TV.
DT
(Makes noise) That sounds or whatever, isn't that Law and Order? Yea (laughs)
Molly
My ringtone was even Law and Order, how bad is that? That's how much I loved it.
DT 7:40
Yea, that is awesome. When I was doing some research, and we've known each other for a couple years, but when I was doing my research, ADHD in high school.
Molly
Yeah.
DT
I mean, still now probably but like, that's where you were diagnosed. Like, a lot of times when we think about diversity, we think about gender. We think about skin color, right? We think about sexual orientation. But it's all deeper than that, right?
Molly
So much.
DT
And there's there's so many things that we're all working with, that nobody else could see, right? Tell me a little bit about that challenge for you, and how it shaped you how you've had to overcome it.
Molly 8:15
So I remember the first time I realized I learned differently. And it was actually when I moved to Durham. We moved in the middle of the year. And I had gone to a small private school up in like the Falls Church DC area. And then went in the first day back from winter break into Durham public schools. And so it was this like vast difference. I didn't have as much teacher attention. And I remember still to this day, I have no idea what they were doing, some sort of song with the alphabet and something and I just remember thinking like, I don't, I do not understand what this rhythm and pattern is here. And they kept doing it every day. And it just didn't make sense to me. And then I started realizing I would get to the same answers as people but I would never get to it the same way that they got it, so much that one of my teachers in middle school called it Molly Math, and it became this joke. That seems funny, but what it did for me was it impacted the way that I I perceived the way my brain works. Because I would get to the solution a different way it was taught and they're like well that's not how we're teaching it. And so constantly I was always thinking differently than the traditional environment. And I took extra time and so I'm like, I literally thought I was dumb, but I was also in honors and AP classes. So it just didn't..
DT:
Match up
Molly
Match up and I didn't know what to do with it.
DT
So, what did you do? What did your parents do like how did you work through that?
Molly
So I think with ADHD there's a couple things I have a learning disability and ADHD. And so those are different, with ADHD, there's a lot of impulsivity, and you know you want to do a lot of different things it's all about like managing my energy, and I didn't know how to do that super well but I played sports and so I think the activity and the exercise and the team stuff that really helped me. Then I realized I was having trouble focusing and then I think I was not the best highschooler. I mean I hope I never have kids like I was when I was in high school. And you see that come out from a behavioral standpoint oftentimes with kids that have ADHD. And so you can diagnose it with a lot of different things like is it anxiety, depression, are they just a crappy kid? And they actually, this is real, there was some stuff happening. My family and I knew I was having a hard time and I said to my doctor, I don't think I'm right. I don't know what it is. I've been reading that like you could get a therapist and all of these other things and he's like okay well like why don't we look at that. But you can't do medicine. If you're not, he said, I would not advise that you do medicine if you don't also do therapy to learn how to effectively manage those things. So my parents were all on board with it. And I went, it turned on me getting learning testing that showed like I was really strong, and I think it's called perceptual organization so it's like taking complex pieces, and it was like the 98th percentile.
DT
That's awesome.
Molly:
Kind of dealing with ambivalence. Reading and verbal was a lot lower initially so what I realized is the ability to get stuff out of my head, written is harder than out of my head, verbally. Arithmetic I was a lot stronger at so anyways I get this insight, start getting accommodations my senior year, so it didn't really impact my education, up until college.
DT
Okay, got it.
Molly
But one of the reasons I picked App was because they had a really good disability services. And so from the beginning, my parents made sure that I knew all the resources I had.
DT
That is powerful like one, because I love overcomers, and just people that have a different little slice of life but they don't let it steal their dreams, right? They keep pushing and that super super cool. A lot of times people hide their challenges and they never get the help that's available to them.
Molly
There's a lot of shame in it, sometimes, and what I'm grateful for is parents that like this is how you're created like there's no shame in this. And you have these resources available so might as well take advantage of it like you and I can walk to the same spot. It might take me longer to get to that spot, but I can still get there. Let's make it easier.
DT
That's right. And one of the things you said and we'll we'll kind of transition to some of the business things you're working on, but we all learn differently.That goes into diversity that goes into personality.
Molly
Yes
DT
Yeah, right. It just so happens we all may have different degrees of things that we're working through, but there's different methods that create productivity with different types of people based on all of these factors, and what schools do a lot of times and I'm not anti-school, but schools, a lot of times are cookie cutter approach. And if you don't fit in the box, then you don't get the attention that you need.
And you're supposed to sit in a small desk and not tap your feet and not move your hands not draw on a board.
DT
Right, for hours. That's so hard but
whether you have a learning disability or not that's just anti-child. That's just against how children are created.
Molly
And then you stop doing art in Middle School, then creative expression and all the other things go away then how do you? There's only one vehicle for expression is academic performance.
DT 13:30
And I think that you and I look at our society, and some of the companies now that are no longer requiring a degree some of the different companies that are looking at what you've done in school but more emphasis on what did you do outside of school? What are your extracurriculars? You said you played sports and different things so did I. I think that our country is evolving to really looking at the whole person which I think is better. We still have a million challenges with all sorts of things but I think that looking at the whole body of work now we can find the winning elements of people, not just the challenges that they might have, and that part's pretty cool.
Molly 14:03
And when you're saying that I'm thinking about Duke Integrative Health has been really formative and how I see myself as a whole person, but also how see business. And I had a Duke Integrative Health Coach, her name is E.D. Oakley, and she's now like one of my best friends. We bartered like I'd babysit and she'd coach.
DT
That's great.
Molly
Seeing all of the aspects that make you a whole person like spirituality. For me, it's my Christian faith but that doesn't have to be for other people but we are spiritual beings. And so looking holistically at who you are and you can't drive on a flat tire. So you want to be a full circle.
DT
That's right.
Molly
And so thinking about how can I do that and what levers do I need to pull so that I can be the full circle I can be, which is the exact same thing from a business standpoint, you want to have the healthiest wholest company.
DT
That's right.
Molly
And the people need to be that way within it and so that really formed how I saw Taking care of myself in my early 20s. And so I know in my head, like when I'm not whole. And so I kind of do these periodically, I'm just like, "Hey, how am I doing with these things?"
DT
Yeah, that's really powerful I was talking at an entrepreneur conference this afternoon, and a lot of times I'll get questions about how do you look at the business, how do you evaluate an opportunity, how do you evaluate risk? I try to cycle it back to what are the characteristics of an entrepreneur and do you have them? What is your temperament towards failure and are you ready for it? And a lot of people want to make things fact based when really it's a lot emotional.
Molly
So much.
DT
And so the question I have for you is, now that you are working with American Underground, that's your driving focus from a professional standpoint, tell me a little bit about your mission in American Underground, and then tell me a little bit about how you got involved.
Molly
So, we have this belief that and this has been core from the beginning that startups are a vehicle for increasing and diversifying economic opportunity. So, at the core that's our why. So, when I look at kind of our three main areas, I think about connections. So access to connections in the network that opened doors. Sometimes people need education and access to information from that standpoint, a lot of times the thing that's holding them back is that one expert or that one person that can open the one door and that we all have stories of that, like my experience on the legal side was one attorney that gave me a shot and opened up a door to a million other things. So there's the connection piece. The content and educational side of it and then there's workspace, but workspace is part of what we do. I believe we are also relational beings. So there is an element of you can connect online but you also need the in person.
DT
The community.
Molly
Yeah and so, we have an organizational goal right now that hundred percent of the companies that we work with, will connect with at least one customer investor if they're raising employee, if they're hiring a resource through the AU community in the next year so that means that you have to have healthy people. You have to have founders connected to other founders, employees connected with other employees. We need to have healthy relationships with our city with other local regional global partners, and with a healthy environment, more connections are going to come out of that. So that's kind of big picture at AU you know, we tracked job creation, over 3100 jobs have been created by companies just headquartered in the AU that's not even companies that might have a second office in the AU.
DT
So repeat that again right because that's powerful right, 3100 jobs.
Molly
Over 3100 jobs as of last September, so that doesn't include this past year we'll have our new report come out later this fall. Over $211 million dollars in funding raised from companies just headquartered here, the numbers go on and on, but we tracked that stuff because it's important and we also look at who are the people raising it. What is their makeup? What did the employees look like? And I think the more transparent we are and the more we're tracking it, the more we're able to hold ourselves accountable to that and then continue to make structural changes.
DT 18:20
So there's the fact based component, but it also creates a pretty powerful niche of care, outside of your singular demographic, right? That diversity being part of the mission starts to become a part of your language, starts to become part of your behavior, it's like part of who you are. And when I look at the American Underground, one of the things that stands out is everybody's welcome, like I don't know if that's a marketing phrase but that's just how I feel like once I'm in the building I see the different startups, and I hear the story. We were talking on the podcast last week, I don't know if we'll do them in this order, but Tim McLoughlin over at Cofounders Capital, and the powerful thing he said is that in this rtm area everybody's really for helping everybody
Molly
So true, you win, I win.
DT
Right. And as I talked to entrepreneurs as I talked to other business leaders that thread is similar, it's authentic when it's said, it's how do we permeate that messaging, as something that really defines our region is an open question.
Molly
Yeah, I, I think about that a lot, especially with all the people moving to the area, how do we one welcome them, and also say, this is how we work. This is how we do work here. We do work by saying you win I win so I'm going to give you 15 minutes of my time and help connect you where I can, because you're worth it. And my hope is that you will do that same thing for somebody else. Adds a little bit of the southern hospitality that I think is natural to our region.
DT
That's pretty good. Southern hospitality for startups.
Molly 19:45
But I like your line, we actually put on, on one of our front windows a couple months ago, it says "Welcome We're glad you're here" and I really, really hope that people find themselves not just their companies. So when I think about what wakes me up every day. I want Ursula, meet the founder Insight to come in and say, I can not only be a CEO, that is building this company that's leading the company and the people side that's married, that has kids, that is pregnant like all of those things, I want her whole self. And I think the way that we go about our work needs to speak to those things so even, what do we celebrate? Are we only celebrating funding raised?. Is that where we stop? Or are we celebrating other things that are core to who they are? So I hope that people discover themselves, beyond just their companies.
DT
When you look at American Underground and the startup ecosystem. What are some of the common threads you're seeing around leaders and companies that make it, that are progressing right, that are doing well?
Molly
Focus. The ability to say no. Knowing enough of where you're going, so that you can say no and not feel bad about it. I really really appreciate what people say I really wish I could do that I just don't have the capacity for that right now. Because it says to me, when you say yes to me you're going to say yes because you actually can do it. And when people say that I'm like, "thank you for saying that. That is exactly what I would love to hear". They're focused on their whole selves, they're focused on their health, their family, they're focused on their companies. There seems to be a trend with industry experience all across the board but I do think we're getting some more mature founders, not necessarily age, but from an industry standpoint, so they have a connection or network in some cases, and enough of what they've seen needs to be fixed or is broken. And so they felt the problem, I think feeling the problem is really important. And you kind of pair all that together. And that seems to be the recipe. I mean when I think about Neil I remember the early days of Archive Social, and I remember the point that he and his wife they had their first child, and that was a big thing he was like, "Molly. I'm going to be out the next week."I don't remember exactly what it was but I remember those moments, because that is the community that is there. And to see how he's prioritized that and the midst of Archive Social's growth, I think it's one of the biggest ones beyond reason 53 million and growth which is huge in itself.
DT 22:23
Which is amazing. So I want to repeat these for audience right, we talked about success threads right focus, the ability to say no, and if you don't have a really strong kind of vision or picture of what your outcome is, then you will say yes to anything right and so that focus and ability to stay say no I agree with. The industry experience I think that's on trend in that more and more people are seeing entrepreneurship as a path for them personally. And so by sheer force of numbers of people starting businesses we're getting people that started out in corporate America, started out in medicine and started out in XYZ, and then taking that knowledge into a startup, and there's a maturity level there that you described that I do think it's important, because then you understand you're not going to be 10 minutes to the next Google, you know that there's some level of process of mobile traffic and adjust. And then the fourth thing you talked about is feeling the pain of the problem. And a lot of software companies a lot of startup companies struggle with finding that product market fit. But if you felt the pain of the problem, then you can explain it to others because you've lived it. And so I think those are four elements you described that are really really powerful. That's awesome. What do you read, what do you listen to what do you watch that keeps you from a business standpoint, fresh and learning and growing?
Molly 23:43
Man, I struggle with this. I think a lot of people probably can relate to this there's so many inputs and a day of information and decisions that oftentimes outside of work, I am trying to find more ways to decompress and metabolize my stress. That's kind of the way I think about is how do I metabolize my stress so I box two to three times a week.
DT
Oh that's awesome. Let's just stay friends (laughs).
Molly 15:07
The repetition in it, and I love my boxing coach.
DT
And where do you box?
Molly
Back to Basics, that's off of Alston Avenue, it has changed my life. It has seriously changed my life, from a confidence standpoint. Coach Harrell, there's something about his style and coaching that translates the physical aspect with the life aspect, and it feels good to be a participant and not lead. So I also try to put myself in situations where I'm not always leading. I think that's also hard for leaders, because you just fall into it all the time, but I want to be coached so I have an executive coach. I have my boxing coach. I like to golf I'm getting more into that but I had a golfing coach. I kind of like going these spurts and this is the ADHD side of me, I got my body moving and trying something else, who literally it doesn't matter if I'm good or bad at it, which is so nice because I can just do something totally different. Nothing's on the line. I go on a lot of hikes, on the Eno and Hillsborough I do a lot of just reflection and journaling and just trying to sit. Nature is everything.
DT
Don't mean to interrupt you there that was really cool. My question was, what are some of the things you read and stay sharp, and your answer was really powerful in that your fight, is how do you get that peace back right after a tough day, so that you can recharge, right? Your answer was like, I get that it wasn't the answer to the question that one would expect, but it's no less powerful right, because you as a leader, have to be at a high energy level, a high engagement level so that by the time you're done, how do you replenish? And this is one of the things that I've struggled with as an entrepreneur so I've had to deliberately learn how to rest.
Molly
It's hard, and your mind works and it keeps going.
DT
And that's been a real thing, personally, and so I can relate. For me it's racquetball, I love the high octane sport of it, racquetball. Nobody really in my racquetball crew knows what I do in business.
Molly
And they don't care.
DT
They don't care like we're just chatting playing racquetball. We're just talking smack we're just playing racquetball, right, nobody's asking questions, "Hey, do you know so and so do you know this", we're just playing a game, and that return to childhood. For a couple times a week a couple hours a week is a big deal so I get it, I appreciate that perspective,
Molly
I do read, so I don't like posting a lot of things on social media, mostly because I find myself getting so distracted with that, that I want to be present in the moment. And so usually I say okay great we'd rather be present than dealing with all this other stuff but that is how I get a lot of my news. This is kind of funny but my mom is like an avid podcast listener. And she just gives me downloads of things all the time she's like, so I was listening to this. And here are the three things you should know from this podcast. She is on the cutting edge of these things. And then I don't talk about this a lot, but prayer is a really big thing for me. And this is where when I'm trying. When I think about the future of the organization and where am I leading and what am I listening to and paying attention to. I find that that is one of the ways that orients how I spend my time and what I listen to. And so that's relational. So, I also think, "Am I going to read a million articles or am I going to talk to founders?" I'd rather listen to founders, hear what they want to do, but I also need to get out and travel and see what's happening in other places. And I need to be reading. And with all of those aspects, how do you discern what to give power to and your decision making process?
DT
So we'll let this go where it goes. But one of the things that I pray for and ask for, I don't ask for money, I don't even ask for business success, it's for wisdom, judgment, understanding. And if I can be blessed with wisdom judgment, understanding, then everything else is gonna be fine.
Molly 28:25
Yeah. I pray, I have it built into my schedule my week and I walk, and I pray and I even pray for business model. I prayer for those things and it's been really interesting to see how like affirmation has come. And like, okay, is this the direction that is honoring of this community and honor for where we need to go, or is it glorifying to me, or some other thing, and it has been really cool to see what has fallen into place beyond my control.
DT 28:57
And the people that come into your, your path.
Molly
Yeah, right.
DT
You mentioned earlier in our discussion that sometimes a founder, is one connection away from business success. And that is how do you create better odds of that happening. That's why the community at American underground is powerful, or other communities because if you have a small business, you're alone with your market. You're alone with your product that you're building. And so you actually become a little bit sequestered so to speak, but a lot of great ideas about your market are going to come from random people that are outside of your line of sight. If you don't have those happy connections. You're never going to feel that magic, and that's what those communities do that, coworking like you describe more than just renting office space, those powerful connections and so like I'm a super fan of that, and even for somebody that's listening that you don't share a Christian faith that Molly and I may share, or you're not deeply religious that doesn't mean you can't take advantage of prayer being quiet time for all the synops of your mind to move away from the hustle and bustle so that you can really rest and let some of those things naturally pattern mash together.
Molly
Yeah, it's my version of mindfulness and I still meditate, like that I don't discredit those things.
DT
That's right. That's super cool, I asked and you answered some of the threads you see in successful founders. What do you see in people that don't quite make it like what are some of the blunders that you see. I wish they weren't thinking like that I wish they were a little bit more open minded about this?
Molly
I think it's some of its open mindedness. I think it can be very easy when you are building a company to emotionally attach your identity to it. And some of it is like feeling the pain is is helpful. The most successful entrepreneurs are the ones that are like when my time is up, I'm happy to bring on another CEO, I don't need to be in this forever. The ones that I worry about are the ones that their identity and worth is tied to how long they're in it, like, a Mark Zuckerberg is not that to me just should not be the thing that we are like using as our North Star. That is like totally random, to me. But I think the healthiest entrepreneurs say I am good at this season. And for the sake of this organization and business. This is the kind of person I need to prepare for the next season. Otherwise, the whole thing falls apart,
DT
That humility is tough right because the type of person that becomes an entrepreneur thinks a whole lot of him or herself.
Molly
You kinda have to.
DT
They're risk takers, he or she is very powerful and creative, and to think that the future of the company might not be you leading it, that's a pretty big maturation step, but the right one, but a pretty big maturation step. Let me ask this, think about our macro environment in our country. If you had a magic wand, what would you change? Like, like a magic wand, what would you change?
Molly
Where do I start, I think, if I could wave my magic wand, what I would like to see is, and this sounds like another like kind of like theoretical thing, but I think that the more effective and healthy people are individually, our ability to solve problems on a macro level would be much greater. And so I think that would be the approach that I would take something around that.
DT 32:39
No, that makes sense. If you were to look at American underground and what you guys are doing into the future. And, you know, without going into all of your strategic plan like what should we expect next what's to come? You talked about the powerful impact you're making now talked about the diversity now, 3100 jobs and that those are all amazing things and you'll continue. But what's the big picture thinking about what you're trying to take the AU to the next level?
Molly 33:06
So I have a hunch that there's something around the future of work that's going to impact what it looks like to support startups and for startup growth. So I think I think a lot about that back in May we rolled out a virtual membership to the AU, and it's been really interesting to see how people have really appreciated that. Couple examples, K4 Connect based here in Raleigh. They don't need real estate cable, K4 Connect really wants the programming and the community and the connections, and the job postings and access to space when they need it for team off sites. But why is it that real estate is the deciding factor for that? And so, as our region has grown there more companies of different sizes evolving our model for that makes a lot of sense. So that's one example, distributed teams. So regardless of what happens from an economic standpoint, if we go into a recession more and more teams are going to be are and will continue to be fully distributed more people are working from home. I think you get that a lot when you look at this region when you have a lot of people focused on family. So how do we make it easier for people to both show up in their personal lives and connect professionally when they need it. I had a call a couple weeks ago with the founder based in Dallas,co founders in Minneapolis, CTO was in Seattle, when they're ready to raise, they want to hire in the Triangle and make the Triangle, essentially be the environment that feels like their home base. So they would come to when they might need to do a team off site. There are not models in place right now, to really accommodate that and we have that in place now with what we're doing. And so, I don't know exactly where it goes but my hope is that our same philosophy and values can now extend to and by the way, this CEO is a black founder, and got connected through the black founders exchange so he's not in an entrepreneurial desert, but think about the ones that are, how do we also make what we're doing here accessible? There will also encouraging the in person experience. I think there's something there and I think the future of work will drive that.
DT
No that's awesome. So one of the things as we as we look at kind of weaving your story right of the barista, accountant, working the law firm to now the leader and a coach for businesses, a leader of people. How did you make that transition from those roles those perspectives to the leader that you are now?
Molly 35:41
Alright, so I'm a bit of an open book so I'm going to tell you what this looks like. So I worked for Fleet Feet Sports right out of school. I did a public accounting internship in college, realized it was not what I wanted to do. Worked for Fleet Feet sports at their corporate office, and there was a program called CFO in a box where we did turnkey financial management essentially for the individually owned franchises across the country. So right out of school I started working with these business owners and helping them think holistically about their businesses and separating personal finances from business finances, making it a great environment for their employees, on and on. Love Love loved it. And they went through management buyout I got some of that experience and I was like I'm ready for the next thing, and in the meantime I was studying for the CPA exam. I passed three of the four, missed the fourth by a point, and you have 18 months to do all of them. So I found myself at this point like what do I really want to be doing? And I went on this retreat. And I was talking to someone there. And the next day they said I believe that you are called to be a leader of people, and continuing with the CPA exam is going to be a distraction from some of that. It felt so right and I put it to rest and I never looked back and that's when my whole world opened up so getting connected to Adam and American Underground. Literally, it was like we're looking for someone who has an accounting background, is from the area, understands and values that economic development side of it. Even if I didn't have full experience in it I saw the purpose of it. And it's just going to roll their sleeves up, and I had enough of supporting entrepreneurs from my previous job, and really didn't know what I was getting into. But this has been an environment where I have discovered myself and my gifts and there's no reason why I'm thinking like, "if I'm the Goodman's who own Capital Broadcasting or if I'm Adam", me at 31, why would you hire me with an accounting degree from App State? There's nothing wrong with App State but like, it's so easy to just look at one profile, to our point earlier about education, and say this is what we need. But they saw my work ethic and the way I think and the support that I have to make the decisions and to fight for what I know is right and always be asked what do founders, say, like, all the time it is what do our founders say they need. This has been an environment where I've been able to grow my career and become a leader, and I have an executive coach. He's been phenomenally helpful. I also see my therapist, every week. And that's another piece of how have I transitioned into a leader, a lot of being a leader of an organization is like family therapy, you are literally leading a family, and it sucks sometimes it just sucks sometimes. And so how do you effectively manage yourself, how do you have transparent conversations conversation and honor them but also where do you draw boundaries? And so, I often think about leading, I'm not a therapist, but from a family therapist standpoint. And a lot of those things translate and so I think the mix of all of those has been helpful. And I really don't know what I'm doing half the time.
DT 39:05
But knowing that allows you to ask the next question. Yeah, right, like the danger is if you think you know what you're doing all the time.
Molly
What I know I'm good as problem solving. And if I can trust myself from that standpoint, I can see gifts some people, I can be honest and transparent I can draw boundaries for myself, I can solve problems and find the people that can help get to a solution that I can do really well. And that's really what it takes, but I didn't really know that I just thought people had all the answers.
DT 39:35
Yeah, and they don't.
Molly 30:56
That's hard.
DT 40:58
Yeah, Molly I'm sincerely appreciative. I've had a great time.
Molly:
Yeah we should keep talking, we should do this again.
DT
Like it was, it was really cool. Thanks so much. I appreciate it.
Jason
That was Molly Demarest from American Underground and Durham, North Carolina. For more information on American Underground, head over to AmericanUnderground.com or visit them on social at AMERUnderground on Twitter, LinkedIn and Instagram. And AT AmericanUnderground on Facebook. And remember, even if you're not in the Durham or triangle area, American Underground connections could be a fit for your startup so be sure to check them out.
So Molly I talked about a lot today, what makes a successful entrepreneur, what traits lead to failure, why it's so important to be well rounded and health, and also why diversity inclusion are so important. And sometimes it's that diversity, you can't see like different ways of learning that can lead to inclusion of different ideas on your team. Donald is actually leading a discussion on this called diversity beyond the obvious at the startup summit in Raleigh. On October 10. Be sure to grab your tickets for the summit by going to meetup. com, or eventbrite.com or simply googling startup summit rally. I'll be there, and I hope to see you there as well.
This episode was edited and produced by me, Jason Gillikin for Earfluence. For more on the Earfluence Podcast Network including the upcoming Talk West podcast. Visit Earfluence,com, or check us out on social media, we're AT EarfluenceMedia.
Intro and outro music for this episode is You Can't Stop Me from Jensen Reed, and you can find more of his music at Jensenreed.com. Thanks for listening. Everyone, and we'll see you next week on Hustle Unlimited.
Amplify Your Expertise
About the Author
At Earfluence, we are proud to produce this podcast. We believe in sharing amazing stories, providing knowledge to the world, and celebrating diverse voices. Through podcasting, our clients are amplifying their expertise, expanding their networks, building a content engine, and growing their influence. If you're interested in podcasting, we'd love to hear from you! Schedule your
free 15 minute podcast consult
today.